WELCOME TO CAR-COMPUTERS.COM
NOTICE!!! WE ARE NOT AFFILIATED WITH ANY OTHER CAR COMPUTER SITE!! WE ARE IN CALIFORNIA. EST. 2001
WE SELL AND SERVICE ECU ECM PCM TCM AND CAR COMPUTERS!!!!!
WE HAVE AN EXCELLENT REPUTATION!!!
209-469-3736 or 209-915-0308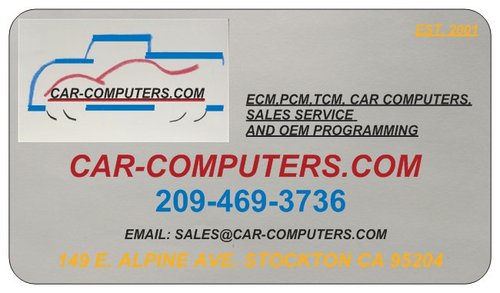 SERVICED CAR COMPUTERS aka ECU/ECM
WE HAVE A LARGE SELECTION OF SERVICED UNITS.
Todays modern vehicles are computer controled. The computers run everything from the engine, transmission, to multiple other electronics including, door locks, windows, radio, navigation, lights, and much much more....
WHAT KIND OF UNITS DO WE SELL?
CURRENTLY SELLING ASIAN AND DOMESTIC COMPUTERS...
WE ARE STOCKING MORE AND MORE PARTS EVERYDAY TO BE ABLE TO SERVICE YOUR UNIT FASTER...
OUR SERVICE DEPARTMENT IS TURNING OUT UNITS FOR AUTO PARTS STORES, MAJOR PARTS HOUSES, AUTO DEALERSHIPS,
AND AUTO REPAIR FACILITIES THROUGH OUT THE WEST COAST.
CALL OUR SALES STAFF FOR A QUOTE TODAY
209-469-3736